Carpal tunnel syndrome (CTS) pain is no match for the IMAK SmartGlove.
The patented SmartGlove helps prevent and relieve wrist pain associated with CTS, arthritis and tendonitis by encouraging proper hand and wrist position. In addition to being designed by an orthopedic surgeon, the SmartGlove product has also earned the Arthritis Foundations Ease of Use Commendation for its design. Read more about the commendation on the Arthritis Foundations web site.
The IMAK SmartGlove features a flexible support splint; washable, breathable cotton material for all day comfort; and a massaging ergoBeads pad under the wrist, which cushions and improves circulation.
Key Benefits:
Helps prevent and relieve carpal tunnel syndrome
Increases comfort and circulation
Ensures ergonomically correct wrist position
Cushions and protects the underside of the wrist, including the pisiform bone
Reversible to fit left or right hand
Use SmartGlove for carpal tunnel syndrome, arthritis, tendonitis, hand fatigue and other wrist and hand pain.
Also great for pregnancy-related carpal tunnel syndrome.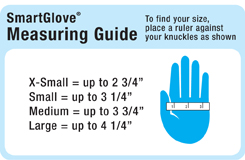 Ideal to use with:
 Mouse Keyboard

Repetitive tasks
Calculator
Laptop
Gaming
Handheld devices