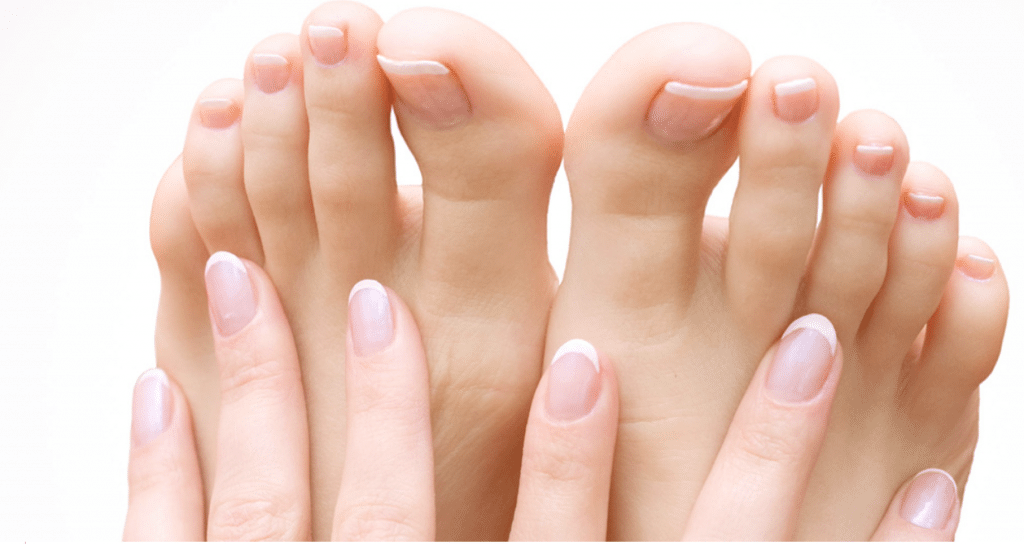 Nail Fungus Treatment of 2018
DID YOU KNOW? More than 10% of the general population has onychomycosis.
Fungal nail problems are often ignored, because of its uncomfortable nature and painful treatments. There are various treatments for fungal infections, including ointments and creams and oral medications but with low success rates. Many podiatrists have treated nail fungus once and for all through the newest and most innovative cold laser therapy. Lunula Laser is a painless, non-invasive technology that provides safe and effective treatment to restore clear and healthy nails.
What is Nail Fungus?
Onychomycosis, or more commonly known as fungal nail infection is the most common foot ailment seen by podiatrists. Affecting 10% of the population, fungal nail infection is caused by the growth of fungal spores under the nail. The fungus feeds on the keratin within your nail and thrives in these moist conditions underneath the nail. The only protection our nails have is provided by the shiny part, where the fungus cannot penetrate. However, with the slow crumbling of the nail, this infection can penetrate even from the tiniest crack, causing the infection to spread through to the entire nail bed. While the best defense against fungal nail infection is good personal hygiene and avoiding nail injuries. If an infection does begin to grow, fungal infections can be often difficult to treat because of the sensitive area it affects
How do we treat Nail Fungus?
There are several treatments for nail fungus infections including, traditional creams and ointments, however, many suffers are left feeling dissatisfied with their lack of effective and long-term treatment. Below is a summary of the many treatments offered for fungal nail infections.
Oral Medication
There are significant limitations and risks of oral antifungal medications. First, treatment of the body's most distal region – the toes – with an oral antifungal medication is often greeted with non-response or high rate of recurrence due to limited drug bioavailability routinely caused by insufficient blood flow. Next, the infectious agent is a eukaryote, and therefore, shares structural and biochemical similarities with our body's eukaryotic cell. As a result, our own important biochemical pathways can be negatively affected by oral antifungals. Although quite rare, hepatotoxicity has been reported in patients taking oral antifungal medication. While there is some success, taking oral anti-fungal medications can result in non-response and high-rate of recurrence, leading to lack of effective results.
Hot Laser
Many podiatrists have turned towards hot laser therapy. Hot laser therapy penetrates the nail and generates heat at the site of infection beneath the nail plate. While it is a painless method, heat can be often trapped underneath the nail. Instead, many podiatrists have turned towards the Lunular Laser which is Australia's only cold laser therapy.
How does the Lunular Laser work?
The Erchonia® Lunula Laser® is a revolutionary low-level laser therapy bringing new hope to people suffering from onychomycosis.  Safe and effective, Lunula Laser is the first and only non-thermal laser to receive FDA 510(k) Market Clearance for Onychomycosis.  Lunula Laser poses none of the risks and harmful side effects of oral anti-fungal medications and is painless, unlike other laser therapies.
The Erchonia Lunula Laser uses low-level laser light to target onychomycosis and requires very little time or set-up for physicians or their staff.  It's the only system you can turn on and walk away – the device already has a pre-set protocol.  In fact, as little as (4) 12-minute sessions are needed to treat the affected area.
Unlike other treatments, Lunula Laser® is the best laser therapy in Australia, promising no pain, no risk and no downtime and is the easy, convenient way to experience healthy, clear nails again.
Proven Results
Erchonia's new Lunula Laser is a low-level laser that delivers proven results.
Grow clear and healthy toenails with safe laser therapy

No pain, no downtime and no risk

No more embarrassment about unsightly fee

No dangerous smoke plumes

Unattended procedure

89% of patients respond
Client Testimonies
The Podiatrist
After over 6 months of having it in clinic, here is what we've learnt:
We've had zero side effects, complaints of pain or anything of the sort

There's no starting/stopping the process due to heat unlike other lasers that use heat to try eliminating the fungus – a process that takes up to an hour

It takes 12 minutes per foot and the process is very simple

The low-level laser stimulates the growth of strong, clear and healthy nails as they grow out and the previously damaged nail is cut away

You don't need to change or adjust anything about your day – just put your (clean) shoes on afterwards and go

We typically provide a minimum of 4 treatments and more may be required depending on the severity of your infection

Sessions are typically spaced 7 days apart

Part of the treatment is learning to manage the fungus in your environment (such as in your shoes) as we as your nail fungus, to minimise the risk of reinfection
More details regarding the Lunula Laser can be found at *www.rehacare.com.au *